Cal Lab Magazine is a quarterly publication (4 issues a year) with an indepth focus on the Metrology industry and Calibration Labs around the world. You can have a printed copy of Cal Lab Magazine mailed to you through a free subscription or paid subscription:
Fill out the Free Subscription Request Form. (Free subscriptions are limited to US delivery only & require you to share your information with industry-related affiliates.)
US Readers can purchase an Annual Subscription for $50
Readers in Canada & Mexico can purchase an Annual Subscription for $55
All Other International readers can purchase an Annual Subscription for $65
Start your paid subscription today by one of the following methods:
Purchase online by clicking on the 1-year subscription icon below.
Download a subscription form to mail/fax back to us.
Questions? Call 303-317-6670 or Email us at subscriptions@callabmag.com.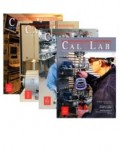 CHECK OUT Receive the next 4 printed issues of Cal Lab magazine mailed to your home or office.  Your information will not be shared with anyone.  Thank you for your patronage!
Price: $50.00 --