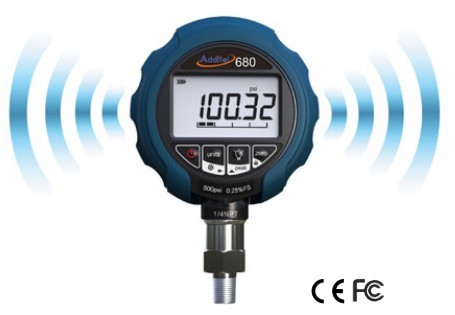 Additel 680 Series Digital Pressure Gauges provide data logging and wireless capabilities for applications up to 36,000 PSI (2500 bar). 

Additel Corporation introduces their new Additel 680 Series Digital Gauges with optional data logging and wireless capability which provides an affordable, easy-to-use method for technicians or engineers to download logged data and transmit real-time data to a PC.

The 680W (data logging and wireless model) can transmit readings up to a 20 meter range and data log internally 140,000 readings consisting of date, time, pressure, and temperature measurements.  Each unit includes software and a USB receiver which allows for easy communications to download  logged data or transmit real-time readings. With optional 9503 Additel/Log II Wireless data logging and graphing software, you may display and log real-time measurements.

The 680 series offers a variety of pressure ranges from -15 PSI (-1 bar) to 36,000 PSI (2500 bar). Three different accuracy classes of 0.05%, 0.1%, and 0.25%FS give the performance needed at an affordable cost. Each gauge comes with IP67 protection certification, which means it is completely protected from dust and can be fully immersed in 1 meter of water.

Product Availability
The Additel 680 Series are available now. For more information visit: http://www.additel.com/products/Digital-Pressure-Test-Gauges/26.html

For information on Additel products and application, or to find the location of your nearest distributor, contact Additel corporation, 22865 Savi Ranch Parkway, STE F, Yorba Linda, CA 92887, call 1-714-998-6899, Fax 714-998-6999, email sales@additel.com or visit the Additel Website at www.additel.com.

About Additel
Additel Corporation is one of the leading worldwide providers of process calibration tools. Additel Corporation is dedicated to the design and manufacture of high-quality handheld test tools and portable calibrators for process industries in precision pressure calibration and test instrumentation. With more than 14 years in the industry,  Additel has successfully developed Portable Automated Pressure Calibrators, handheld Digital Pressure Calibrators, Documenting Process Calibrators, Multifunction Process Calibrators, Digital Pressure Gauges, and various Calibration and Test Pumps.