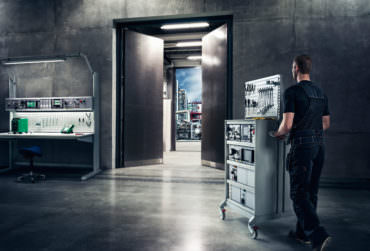 Beamex introduces a new Modular Calibration System, MCS200. It is a modular test and calibration system for workshops and laboratories. MCS200 offers efficient and ergonomic possibilities for the maintenance of process instruments.
The system can be tailor-made to fit your requirements. Beamex will assist you in planning, specifying and installing the ideal workshop solution for your facility.
Summary of Beamex MCS200 Features
ESD protected workstation with calibration modules for pressure, temperature, electrical signals and frequency; variable AC and DC supplies; measuring instruments; soldering and desoldering equipment; and accessories.
Support for HART®, Foundation Fieldbus H1 and Profibus PA
Paperless calibration – seamless integration with Beamex® CMX Calibration Software.
Fully automated pressure calibration − communicates with Beamex® POC6 Automatic Pressure Controller
Fully automated temperature calibration − communicates with Beamex® FB/MB Temperature Blocks
For more info, visit: https://www.beamex.com/calibrators/beamex-mcs200/.