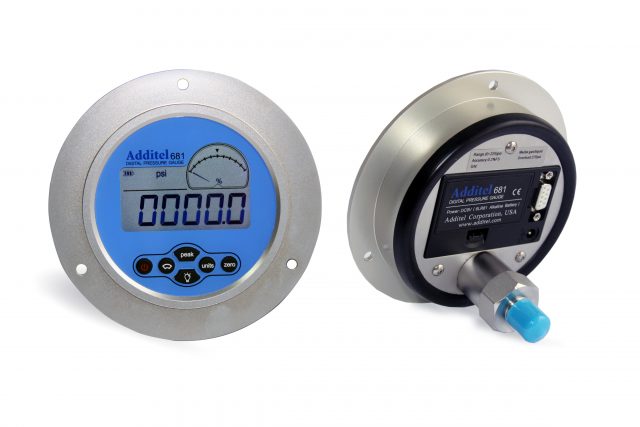 November 6, 2012 – Additel Corporation, one of the leading worldwide providers of process calibration tools, today introduced the new panel mount ADT681 digital pressure gauges with accuracy of 0.2%FS, 0.1%FS, 0.05%FS or 0.025%FS in the pressure range from vacuum to 36,000 psi (2500 bar).
With advanced microprocessor technology and state-of-the-art silicon pressure sensors, the ADT681 series digital pressure gauges provide an accurate, reliable, and economic solution for a wide range of pressure applications. They are loaded with functionality and are remarkably easy to use. To achieve the best possible performance, every silicon pressure sensor in our gauges is specially aged, tested and screened before assembly. The ADT681 series digital pressure gauges are unmatched in performance and reliability. Best of all, they are very affordable. Now in addition to our bottom mount version, we can also offer, our new panel mount version
---
Additel Corporation, based in Yorba Linda, California USA, is one of the leading worldwide providers of process calibration tools, Additel Corporation is dedicated to the design and manufacture of high-quality handheld test tools and portable calibrators for process industries in precision pressure calibration and test instrumentation. Over 14 years Additel has successfully developed Digital Pressure Gauges, Digital Pressure Calibrators, Portable Automated Pressure Calibrators, Multifunction Process Calibrators, and various Calibration and Test Pumps.
Product quality and customer service along with innovative engineering is our top priority in the Additel business philosophy. Additel is committed to customer satisfaction through cost-competitive quality products, services, and technical support.
For more information, please visit www.additel.com.