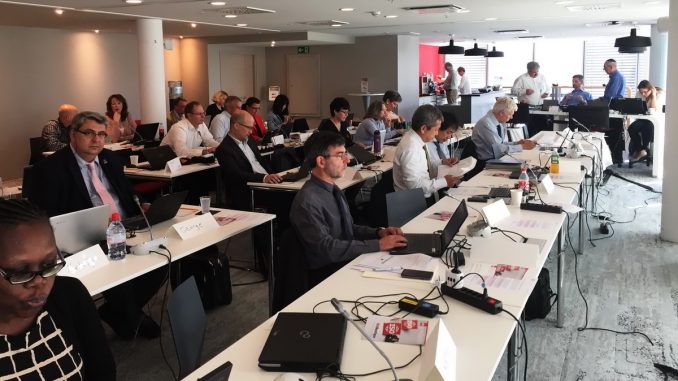 by Dr. George Anastasopoulos
Introduction – Background Information
As we discussed in my previous relative article "The new ISO/IEC 17025 – What to expect", ISO/IEC 17025 was first issued in 1999 by the International Organization for Standardization (ISO) and the International Electro-technical Commission (IEC). It is the single most important standard for calibration and testing laboratories around the world, with more than 50.000 laboratories accredited, globally.
At the International Laboratory Accreditation Cooperation (ILAC) General Assembly in October 2013 the Laboratory Committee (which is composed of stakeholder representatives of accredited testing and calibration) recommended that ILAC request that ISO/CASCO establish a new work item to comprehensively revise ISO/IEC 17025:2005. CASCO is the ISO committee that works on issues relating to conformity assessment. CASCO develops policy and publishes standards related to conformity assessment; it does not perform conformity assessment activities. CASCO's standards development activities are carried out by working groups made up of experts put forward by the ISO member bodies. The experts are individuals who possess specific knowledge relating to the activities to be undertaken by the working group.
The 5th ISO/CASCO WG 44 meeting was held on September 20-23, 2016 in Geneva. 96% of CASCO members voted in favor of the CD2 to move to the Draft International Stage (DIS). Fifty-three (53) experts representing certification/accreditation bodies and stakeholders from all over the world participated in that meeting. The deliverable of this meeting was the DIS version of the new ISO/IEC 17025 version. Up to the moment that this article was finalized, the DIS text was not yet released by ISO/CASCO secretariat, so the references to standard clause numbers listed in this article may be changed.
The Draft International Standard (DIS) will be translated and then circulated to all national ISO member bodies for comment and vote. Typically, the national bodies' mirror committees are responsible for monitoring and participating in the work of the relevant ISO committee. At this stage it is anticipated that the DIS will be released by the end of this year.
The DIS can be approved if two-thirds of national member bodies are in favor and not more than one-quarter of the total number of votes cast are negative.
If the DIS is approved the project could go straight to publication. However, should the draft be significantly revised following comments at the DIS stage (even if the DIS has been approved) a decision may be made to prepare a Final Draft International Standard (FDIS) and circulate it to national member bodies for a further vote. In any case the new ISO/IEC 17025 is expected to be published in 2017.
About the New Standard – DIS Changes
The format of the new standard will be significantly changed to be more in line with new ISO formatting guidelines. The basic format is similar to other new standards such as ISO/IEC 17020 and ISO/IEC 17065.
The new DIS is now structured as follows:
Scope
Normative references
Terms and definitions
General requirements
Structural requirements
Resource requirements
Process requirements
Management requirements

Annex A – Metrological Traceability (Informative)
Annex B – Management System (Informative)
Bibliography
Changes in the Requirements of New ISO/IEC 17025 DIS
In addition to the changes decided in the previous standard stage, as described in details to my previous article, the following new changes were introduced to the DIS:
Term "process" is not used in DIS except on the title of chapter 7 "Process requirements" and 7.10 (regarding complaint handling process) where the text is defined from the CPC (Policy Committee).
Definitions for verification, validation shall not be included in the standard (reference to International Vocabulary of Metrology – Basic and General Concepts and Associated Terms-VIM 3rd edition). WG agreed that to avoid any confusion between "verification & validation" as a conformity assessment activity and the other usages, the definitions were deleted.
Requirements for documentation were relaxed. The term "documented procedure" is not used in DIS. Example:
"The laboratory shall:
c) document its procedures to the extent necessary to assure the consistent application of its activities and validity of the results." (5.1)

Requirement "to prevent contamination" was added to clause 6.3 "Laboratory Facilities and Environmental Conditions."
"Reference data" is now added as part of "Equipment" (6.4.1)
Requirements for calibration are aligned with ISO 9001:2015 text: "When the measurement accuracy and measurement uncertainty affect the validity of the reported result, or metrological traceability is a requirement, measuring equipment shall be calibrated" (6.4.6). WG took the decision to eliminate comparisons where it refers to calibration.
Requirements regarding externally provided product and services are aligned with ISO 9001:2015:
The laboratory shall assure the suitability of externally provided products and services that affect laboratory activities, when they:
a) are intended for incorporation into the laboratory's own activities;
b) are provided, in part or in full, directly to the customer by the laboratory, as received from the external provider;
c) are used to support the operation of the laboratory.
NOTE: Products can include, for example, measurement standards and equipment, auxiliary equipment, consumable materials and reference materials. Services can include, for example, calibration services, sampling services, testing services, facility and equipment maintenance services, proficiency testing services and assessment and auditing services. (6.5.1 )

New requirements for method verification are added:
The laboratory shall verify that it can properly perform methods before introducing them by ensuring that it can achieve the required performance. Records of the verification shall be maintained. If the method is revised, verification shall be repeated to the extent necessary. (7.2.1.5)
Use "measurement uncertainty" rather than "uncertainty of measurement."
WG discussed the in-depth analysis that shows that ISO/IEC 17025 meets each of the principles, but not to the same level as ISO 9001. Each one is taken into account, but to a limited extent.
Addressing uncertainty in sampling WG added sampling to 7.6.2.
Annex A is now simplified and shortened.
Annex B: It is clarified that ISO/IEC 17025 is following the logic of a process, consistent with the process approach and requirements of ISO 9001. A possible representation of this approach is provided in the Annex: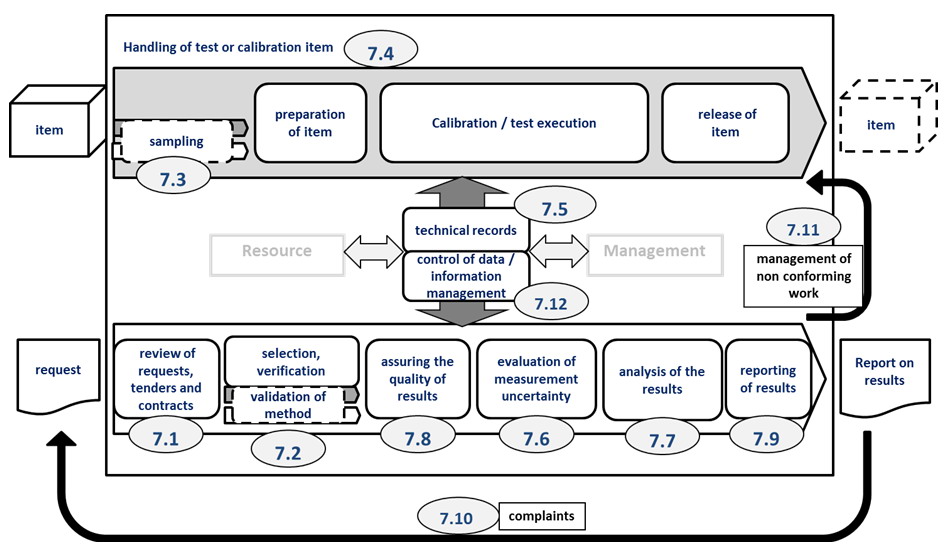 A lot of re-structuring was performed and clarifications were added.
The Next Step
ISO/CASCO/WG 44 will meet again at Geneva, Switzerland, from July 10 to 14, 2017. The output of that meeting is expected to be the FDIS version of the standard.
About the Author
Dr. George Anastasopoulos (ganas@iasonline.org), is the Director of Conformity Assessment Accreditation Services, for International Accreditation Service (IAS). He has also served to the Bonn-Germany based, Accreditation Panel of the United Nations Kyoto Protocol system UNFCCC/CDM.
He is a Mechanical Engineer with a MSc and a PhD in Applied Mechanics from Northwestern University, Evanston, Illinois. He is also member of ISO/TC176 and ISO/CASCO technical committees which developed the new ISO 9001:2015 and new ISO 17025 (under development).
Dr. George Anastasopoulos is awarded with the EOQ Presidential Georges Borel Award for international achievements being at the edge of the development, use and diffusion of quality at international level through his professional activities and behaviors, personally contributing to the development of the European Quality movement through his accomplishments with a global impact in the field of quality.
Dr. Anastasopoulos presented many papers in technical and financial conferences, magazines and newspapers and is the author of many articles and books. He also presented many lectures as keynote speaker in topics such as Management Systems, Business Process Reengineering, Telecoms-FTTH-IT, Quality Assurance and Process Auditing. He participated in numerous consulting and research projects sponsored by government and industry in USA, European Union and many other countries worldwide.